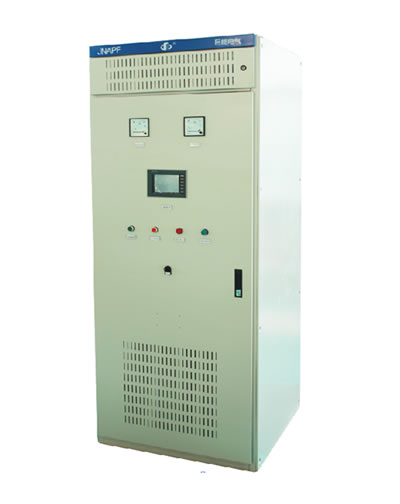 1、Introduction:
Active Power Filter (APF) is based on instantaneous reactive power theory testing technology and IGBT power conversion device with real-time detection of harmonic current. It has high controllable and fast responsiveness through the instantaneous current tracking control, automatic tracking harmonic changes.Active power filter is a kind of new power electronic equipment which is used for dynamic harmonic suppression and compensating reactive power. It can implement fast tracking and compensation of harmonic with different sizes and frequency. In addition, it can load current though sampling and implement separation of each harmonic and reactive power. Furthermore, it controls and outputs intensity, frequency and phase of the current actively; It counteracts corresponding current in the load and realizes dynamic tracking and compensation. In addition, it can compensate imbalance both harmonic and reactive power.
2、Application
Hospitals, petroleum, chemical, metallurgy, machinery, light industry, coal, shipbuilding, mining, mobile communications, rail transportation, automobile manufacturing, aerospace manufacturing and other industries.
3、Characteristic
①Dynamic active filter improves power quality comprehensively.
②DSP full digital control and 20KHz switching frequency respond to dynamic change of the load fast.
③It has three-phase imbalance compensation ability and the function of automatic current limiting. Thus, overload will not happen.
④It has high efficiency. In addition, loss of full load is less than 2.57%. It applies parallel installation method. Thus, installation is simple and the volume is small.
⑤It reduces line loss, eliminates transformer and motor heating caused bu harmonic and realizes significant energy saving of the system.
⑥Local compensation, partial compensation or total compensation can be selected according to distribution structure. CT can be put in power side or load side.
⑦It is easy to expansion and redundancy design, 10 sets can be operated in parallel at most.
⑧Harmonic compensation times are optional. It can filter our harmonic for 50 times at most.
⑨Reactive power can be selected for active power filter at the same time.
⑩Filtering effect of active power filter is not influenced by system impedance change. Besides, it can restrain system resonance automatically.
4、Specification
| | |
| --- | --- |
| Working Frequency | 50HZ±1HZ |
| Harmonic Compensation Range | 2~50 |
| power supply mode | Three-phase three-wire or three-phase four-wire |
| Response Time | No more than 10ms |
| Average Loss | No more than 3% |
| Display Interface | A 7.0 -inch touch screen |
| Protection Class | IP40 |
| Type of Cooling | Air Cooling |
| Reactive Power Compensation | Yes,Power factor can be set |
| Noise Indicators | ≤65dB |
5、Models Specifications
Model

Rated Voltage

(V)

Rated Current

(A)

Rated Power (HZ)

Level Number

Cable Entry

JNAPF 3L-400/50

JNAPF 3L-400/100

JNAPF 3L-400/150

JNAPF 3L-400/200

JNAPF 3L-400/300

400

50

100

150

200

300

50

2

Bottom or top

JNAPF 3L-400/50

JNAPF 3L-400/75

JNAPF 3L-400/100

400

50

75

100

50

3

Bottom or top

JNAPF 3L-660/120

JNAPF 3L-660/200

JNAPF 3L-660/300

660

120

200

300

50

3

Bottom or top

JNAPF 3L-750/100

JNAPF 3L-750/150

JNAPF 3L-750/200

JNAPF 3L-750/300

750

100

150

200

300

50

3

Bottom or top

JNAPF 3L-1140/100

JNAPF 3L-1140/200

JNAPF 3L-1140/300

1140

100

200

300

50

3

Bottom or top