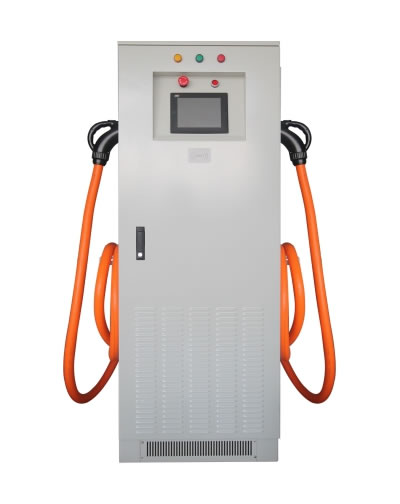 一、Product Character
It use a nuclear safety level of power supply module platform for higher safety and reliability. The power factor is greater than 0.99 and the low harmonic distortion is less than 5% by using new type high efficiency three-phase APFC circuit topology.
High-frequency switching power module use a full-bridge phase-shifted soft-switching technology, making the execution efficiency higher.the advanced digital flow technology improves the precision and anti-jamming of flow efficiently. We are the first one creating the module dormancy and rotation technology to ensure the efficient operation of the system.
It has intelligent charging process control and perfect charging surveillance and protection, easily operating.
You can choose a variety of charging methods just like timing charging, quantitative charging, fixed amount charging, charging to full and so on.
It shows real-time displays the amount of charge, charging time, the current operating status and tariff information , prices , running status and other information.
It can reserve a RS - 485 network communication interface, and provide the matching mode of GPRS network
It has hot-swappable module technology, making maintenance easier.
二、Perfect Protection Function
The charger is electrical isolation for input and output.
Output has a device of preventing battery charger output filter capacitor charging. It can prevent the charger going instantaneous large-current when connected to the battery pack. The charger has input overvoltage / undervoltage protection, out put overcurrent / short circuit protection, anti-reverse battery protection, thermal protection, lightning protection, communication interruption, moisture, salt spray, mildew, rust protection and other protective measure functions to ensure system security.
三、Standard
Charger interface standard, pressure rating, insulation class, EMC accord.:
《GB/T 20234.1-2015 Electric vehicle conductive charging system - Part 1 connection: General requirements》;
《GB/T 20234.3-2015 Electric vehicle conductive charging system - Part 3 connector: DC charging port》;
《GB/T 18487.1-2015 Electric vehicle conductive charging system - Part 1: General requirements》;
《GB/T 27930-2015 The communication protocol between off-board electric vehicle conductive charging unit and battery management system》。
四、产品参数
型号Modul

JNCD15A

JNCD30A

JNCD60A

JNCD90A

额定功率Capacity

15KW

30KW

60KW

90KW

峰值功率 Peak Power

18KW

36KW

72KW

108KW

制作方式Working

ZVS,PWM

输入INPUT

相数Phase

3Phase, 3Wires ,PE

电压Voltage

380VAC(-15%+20%)

频率Frequency

45Hz-65Hz

功率因数 Power Factor(MAX)

≥0.99 APFC

电流总谐波 Current THD

≤3%

输出 OUTPUT

电压Voltage

0-450V DC

电流Current

0-33A

0-66A

0-133A

0-200A

稳压精度Voltage Regulation

≤±0.5%FS(FS Resistor Load)

稳流精度Current Regulation

≤±0.5%FS(FS Resistor Load)

纹波Ripple

≤0.2%

电源调整率Power Regulation

≤±0.1%FS

防护等级 Protection grade

IP54

效率Efficiency

96%

电压、电流的数据采样周期

<100ms

保护Protection

1、输入过/欠压保护;2、输出过流/短路保护; 3、电池防反接、过热、防雷、通讯中断、防潮、防盐雾、防霉变、防锈保护等防护措施功能

模块通讯接口Interface

CAN 2.0

控制器通讯接口Interface

CAN/RS485/RS232

冷却方式 Cooling

风扇强制冷却

环境 Environment

运行环境operating Temperature

-20+50℃

温度Temperature

10-90%RH

存储温度Storage temperature

-30℃ +70℃

重量Weight(Kg)

60

80

150

220

尺寸Dimension(mm)

650mm W×1440mm H×400mm D

720mm W×1670mm H×400mm D

750mm W×1760mm H×675mm D