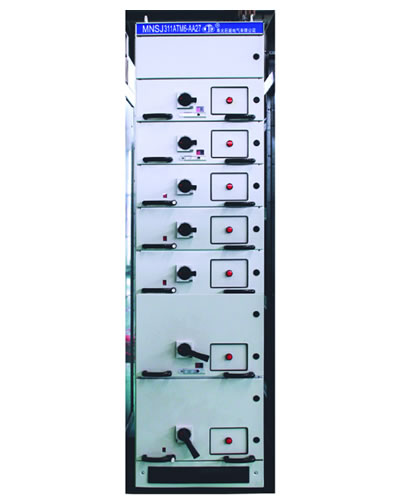 The second-generation tank(C type material) low-voltage withdrawable switchgear is suitable for AC 50-60Hz, rated voltage 400V, and rated operation current 4000A or below power generation, power supply system, power distribution and motor centralized control, low voltage power distribution cabinets reactive power compensation equipment. It's widely used in Power plants, petroleum, chemical, metallurgy, textile, high-rise buildings and other places. The product conforms to standard GB7251.1, JB/T9661 and other standards
Specification:
The main frame structure adopts the original cabinet frame. The door plank adopts built-in hinge. There is no need welding studs in the door. Welding hinge makes the overall looking more clean and tidy. Improvements are made on the part of the drawer, what makes the drawer Sheet metal double fold process, strengthen the overall strength, and look more beautiful.The control board in the form of reversible door structure, wiring more convenient.
1/2 drawer and 1/4 drawer have three position functions. All drawers possess positioning and guiding element, and the drawer can be automatically reset and rectified during insertion process. The current-carrying 1/2 drawer can up to 125A. Also, it realize the uniform of standard and improved inlet-outlet line plug-in.
The hinge of cabinet door does not welded stud, and it can realize zero tenesmus of fixed door plank. The unit drawer control and testing board is revolving open type, which is much convenient to installation than MNS2.0 and GCS. The design of human mechanics adopts hand-operated effort-saving structure, making the shaking-in and out of 630A and 800A drawer easier and effort saving.
The height of 1/2 drawer and 1/4 drawer is the same as that of the unit drawer. The one-off plug-in can satisfy 8 times instantaneous starting current. Stylish appearance possesses texture and grade.