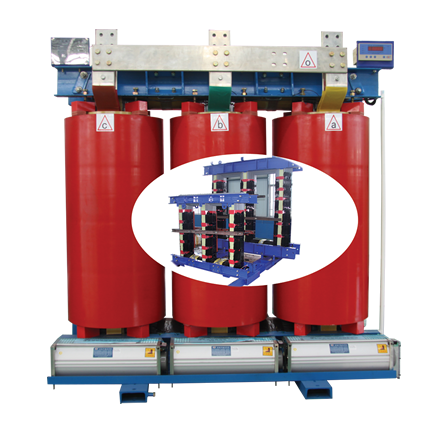 CB10-30~3150/10型
Dry type transformer
SCB10 epoxy resin cast dry-type transformer quality materials, scientific formula, with advanced production and testing equipment, strict productionprocess by A. The product has the advantages of high reliability, long life characteristics. According to the different use of the environment, can be configured with different degrees of protection of housing or housing notconfigured. Oil immersed transformer SCB10 transformer can be used as the upgrading of products, applicable to high-rise buildings, commercial centers,airports, tunnels, chemical plants, nuclear power plants, ships, petrochemical and other important or special environment. SCB10 dry transformer capacity is 30KVA-3150KVA, I plant to accept higher capacity of customized products.
Product features:
Compared with SCB9 type SCB10 transformer, no-load loss, no-load currentand low noise.
Safety, fire protection, no pollution, can be directly run in the load center.
High mechanical strength, strong anti short circuit ability, partial discharge of small, good thermal stability, high reliability, long service life.
Good heat radiating performance, strong over load capacity, forced air cooling can improve the capacity of operation.
Good moistureproof performance, adapt to the operation of high humidity and other harsh environments.
Temperature monitoring and protection system can be equipped with sound.The intelligent signal control system, can automatically monitor and screen display with phase winding their respective working temperature, which can automatically start, stop the fan, and the alarm, trip feature set.
Small volume, light weight, small floor space, low cost of installation.
The core material is made of high quality cold-rolled silicon steel sheet, a full inclined joint laminated structure
Low voltage coil windings for the same type structure, the use of high quality steel foil winding, a high-voltage coil for the layer structure, vacuum epoxy resin casting.